The Journey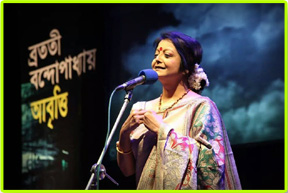 Bratati gave more than two thousand recitals in India and abroad. The year 1996 created a landmark in Bengali elocution. Her first three-hour solo recital Ek Sandhyay Eka Bratati was staged in Rabindra Sadan on December 7, 1996. The auditorium was packed to capacity and she mesmerized the audience for the entire period. She gave six more solo recitals till date, each of three-hour duration.
Bratati believes in amalgamation of different forms of art. With the support of music, light and stagecraft she has created her own style of presentation.
Bratati is also a regular newscaster of Doordarshan. She was a regular anchor for some of the prestigious radio programmes including HMV-FM and Radio Snap of RPG Netcom Network.
Bratati has about 60 albums to her credit. She is fond of literary writing. She has edited five books till date. She also writes for Bengali dailies and periodicals.
Bratati speaks:
I was aboard Darjeeling Mail travelling to Siliguri with fellow artistes. I stared reading a book 'Diary of a Young Girl' – the memoir of Anna Frank. I was deeply touched by the book; the pain of the teenage girl haunted me. I tried to sleep but I could not. The poems I knew started flowing in my mind without an interruption. The dawn broke out; it put me in a dream – the dream of staging my first solo recital. I started planning…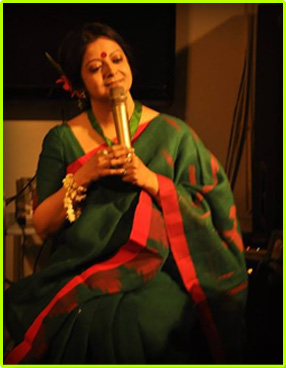 Prose—it might be speculated—is discourse; poetry ellipsis. Prose is spoken aloud; poetry overheard. The one is presumably articulate and social, a shared language, the voice of "communication"; the other is private, allusive, teasing, sly, idiosyncratic as the spider's delicate web, a kind of witchcraft unfathomable to ordinary minds. - Joyce Carol Oates